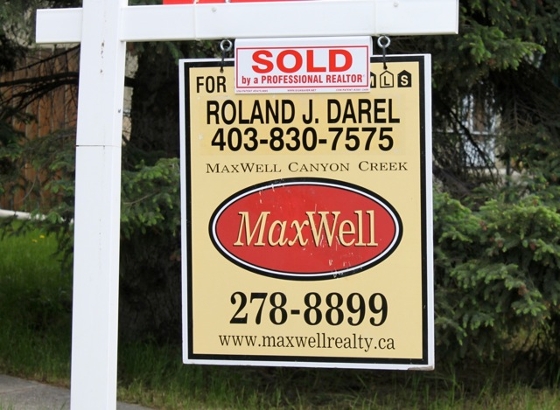 CALGARY — A dwindling supply of single-family homes for sale in Calgary has contributed to a spike in MLS sales in Okotoks and Cochrane in the first quarter of this year.
The Calgary Real Estate Board, in a report released Tuesday, said tightening market conditions in the city are supporting sales growth in both those communities, where property inventory levels remain relatively healthy.
"Relatively strong demand has reduced the amount of time properties are on the market," said Becky Walters, CREB's president. "However, overall inventory levels remain healthy, contributing to balanced conditions for buyers and sellers."
CREB said many homebuyers have turned to communities surrounding Calgary "as consumers seek affordable options."
During the first quarter of this year, Okotoks has seen MLS sales increase by 17.92 per cent from a year ago to 125 transactions. The average sale price for a single-family home is up 2.58 per cent to $401,410 while the single-family benchmark price, which represents the typical property sale, is up 6.47 per cent to $374,967.
Cochrane has experienced a 6.45 per cent rise in MLS sales in the first quarter to 99 transactions with the single-family average price rising by 12.58 per cent to $463,068 while the benchmark price rose by 10.85 per cent to $396,400.
However, MLS sales in Airdrie in the first quarter were down 12 per cent to 264 transactions. The average price for a single-family home increased by 0.15 per cent to $367,164 while the benchmark price was up 4.82 per cent to $343,767.
"The activity in Calgary's economy and housing market has spread to some of the surrounding centres outside of city limits," said Richard Cho, senior market analyst in Calgary for Canada Mortgage and Housing Corp. "With listings down in Calgary and average prices higher, some buyers have looked to some of the smaller centres that are a short drive away."
In the city, single-family MLS sales of 3,565 in the first quarter are down 1.49 per cent from the same period last year. But the average sale price for a single-family home in Calgary has risen by 10.36 per cent to $513,109.
"The improvement in sales activity in Okotoks is due to inventory levels being slightly elevated, unlike some of the other surrounding areas," said Ann-Marie Lurie, CREB's chief economist. "This provides consumers with choice even though there has been a 15 per cent decline in new listings.
"If dwindling supplies for single-family homes persist within Calgary city limits, it should support growth in outer lying communities. However, as resale listings fall, consumers may turn to new homes, and such a move could limit sales growth for resale products."
mtoneguzzi@calgaryherald.com
Twitter.com/MTone123