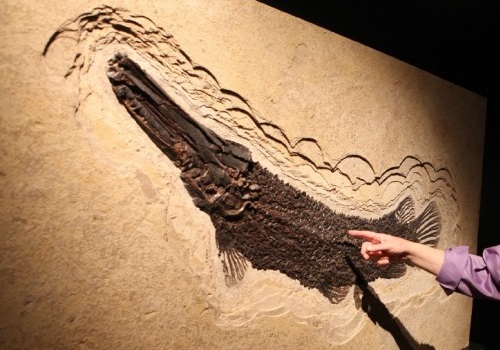 An example of the recent fossil find in Okotoks
Today's Okotoks realty blog is a departure from the usual Calgary and Okotoks real estate market reports. In fact, in the future I plan on mixing things up somewhat to include more public interest pieces. After all, you and/or your family may be joining the community for the first time and want to know just a little bit more than the fluctuations in Alberta mortgage rates.
Last week while combing for news on Okotoks realty I came across this CTV News piece reporting of a very interesting find. An Okotoks area man was out walking his dog (sounds like the start of a joke) and came across a sweeping patch of fossilized scales imbedded within a sandstone boulder. The man, curious, reported the find to interested parties and within days folks from Drumheller swept in for a closer look. What the Okotoks man with the dog found was in fact a dinosaur. Specifically, the petrified find was a prehistoric Alligator Gar, a rare hybrid of alligator and fish that still roams around in a much watered down version today in North America. This remains of the hardened beast in Okotoks however is not among the recent deceased, it comes in at around 60 million years old. Happy Birthday Gar.
Aside for the adventurous appeal of this story I bring it up in my Okotoks realty blog because it draws attention to one of the reasons people enjoy buying a home in this neck of South Central Alberta. In one moment from your Okotoks home you can whisk away to the big city of Calgary but in the next, especially when the warm weather arrives, you can take the mere 2 hour trek to the Jurassic Park of Canada - Dinosaur Provincial Park and the Royal Tyrrell Museum in Drumheller.
I'm proud to be a representative of Okotoks realty because I know that when I welcome new families into our community fold that they are joining a dynamic region that cannot be compared to anywhere else in the country. Whether you and your family are seeking fantastic educational facilities, community parks, upscale shopping, sports & entertainment complexes, or 60 million year old petrified relics, Okotoks is the home for you.
If you happen to be looking for anything from homes for sale in Cranston Calgary to Okotoks realty, please feel free to call me directly anytime at (403) 830-7575 or contact my Okotoks realty office.